Advanced Multi-Tasking Lathe

i-42 Ultimate
This innovative series stands out as an automatic lathe!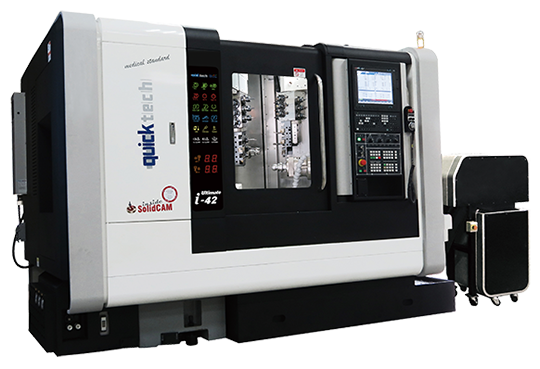 The i-42 Ultimate designation comprises of 10 axis and 4 spindles which includes a sub spindle with both X and Z positioning. This also marks the integration of the driven tools having a powerful B- axis milling for simultaneous and efficient machining. Due to this enhancement, the tools application becomes more fast and flexible for complicated parts.

HIWIN 35mm guide way C3 class ballscrew
C3 class hardened and precise ground ball screw ensure the highest precision and speed

P4 class preload spindle bearing
Preload bearings are offered for the maximum attachment effect

Tilting Motorized Tools
The milling head comprises of 12 motorized tools for 360°continuous leads to even greater flexible tools arrangement and significantly efficient productivity for small and medium lot sizes.

Robust FC35 Meehanite Castings
Harden to over HRB 190 and tempered to relieve stress.
SYNCHRONOUS SPINDLES
Both main and sub spindle can be synchronized for parting off operations, or can be used for turning longer work pieces.

By synchronizing, transfer of the part from main to sub spindle is precise, and alignment of critical dimensions can be realized.

Synchronizing can be achieved to an accuracy of 0.02 degrees while the spindles are in motion.

Dual B-axis
i-42 Ultimate

Single B-axis
i-42 Ultimate

Specification
Machine Type
I-42U
Mitsubishi Controller
M830S

Spindle

Capacity

Max. Turning Dia.
100mm

Max. Bar Working Dia.
42mm (65mm)
Max. Turning Length
230mm
Collet Chuck Type
KK5-173E42B (KK6-185E60B)
Spindle Nose
A2-5 (A2-6)
Spindle Bore
43mm (66mm)
Max. RPM.
4000rpm (6000rpm)

Sub-spindle

Capacity

Max. Turning Dia.
100mm
Max. Bar Working Dia.
30mm
Max. Turning Length
100mm
Collet Chuck Type
KK5-173E42B
Spindle Nose
A2-5
Spindle Bore
31mm
Max. RPM.
4000rpm (6000rpm)
C Axis
Least Command Unit
0.001°
Positioning Accuracy
0.02°

Travel&Feed
X1/Y1/Z1 axis
150 / 410 / 250mm
X2/Y2/Z2 axis
450 / 380 / 300mm

Rapid Feed
30m/min

Repeated Positioning Accuracy

Motor

Main-Spindle
Servo Spindle 11.0kW
Sub-Spindle
Servo Spindle 3.7kW
X1/Y1/Z1 axis
AC Servo 1.5kW

X2/Y2/Z2 axis

AC Servo 1.5kW

Motorized Tool

AC Servo 1.5kW

A.T.C System

OD/ID Tools Main Spindle
6 / 5

OD/ID Tools Main Spindle
5 / 9

Tool Shank Size
□ 20mm

Drill Holder Size (Main)
ER-20 / Ø20mm

Drill Holder Size (Sub)
ER-20 / Ø20mm

Motorized Tool
Number of Motorized Tools
T1=12 / T2=12

B axis
360°
Max. RPM.
4000rpm

Collet Specification
ER-20

Max. Drilling Dia.
12.0mm
Max. Tapping Capacity
M10xP1.5

Hydraulic

System

Hydraulic Pump / Tank Capacity
1HP / 40L+25L

Max. Pressure / Flow

30 kg/cm² / 12L/min

Lubrication
Lubricant Pump / Tank Capacity
25W / 2L
Max. Pressure

Coolant

System

Coolant Pump
TPH4T5K, 5Bar, 75 L/min

Hydraulic Pump
2HP + SF-30C, 25Bar, 30L/min

Coolant Tank Capacity

240L

Machine

Size

Length/ Width/ Height
3500 (2900) / 1900 / 1950mm
Weight
( ) Option
Products Download