Advanced Multi-Tasking Lathe

T8 Hybrid-Y
Cycle time can be saved up to 45%. Flexible duo system simultaneous. The system allows running 2 programs simultaneously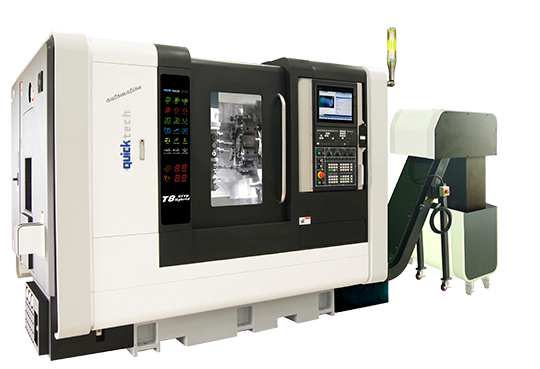 Feature:

Power turret and flexible gantry type tooling system.
Synchronous spindles.
Up to 24 live tools with powerful motor.
Double programs for cycle time saving.
25 bar coolant pressure.
Free angle B axis 360° for all the angular tapping and drilling.
2 Y axis.

AXIS
The turret is mounted on a secondary 75 degrees wedge saddle on top of the X-axis slide from one - piece casting. Both X & Y axes have extra wide hardened and linear ways to assure the rigidity and accuracy. Y-axis control further enhances multi-tasking live tooling capabilities and improves various machining precision. With Y-axis travel 80 mm=±40mm , a wide variety of parts can be efficiently machined.

The modern slant-bed design
ensure easy chip disposal and heat elimination.

BMT-55
Turret with 12 stations can be additionally equipped with driven tools on six stations. In connection with the driven tools, the main spindle is C-axis functional for accurate positioning.

Gantry Tooling B-Axis Free angle Tilting drilling and tapping
The unique gantry tooling system is extremely flexible. The standard tooling system allows for 5 external tools, 9 internal tools and 12 live tools. The ER20 spindles are gear driven, with rigid tapping as standard. Up to 26 tools load for machining

Display
The large high resoultion display packed with intelligent coversation programming and path simulation
Specification
Machine Type
T8 Hybrid-Y
M830S

Main

Spindle

Capacity

Swing over Bed
500mm
Swing over cross slide
300mm

Max. Turning Dia.
300mm

Max. Bar Working Dia.
65mm
Max. Turning Length
200mm

Chuck Size
KK6-185E60B
Main Spindle Nose
A2-6
Main Spindle Bore
66mm

Max. RPM.
3000rpm (4000rpm)

Sub- Spindle

Capacity

Max. Turning Dia.
100mm

Max. Bar Working Dia.
42mm

Max. Turning Length
100mm
Chuck Size
KK5-173E42B
Sub- Spindle Nose
A2-5
Sub- Spindle Bore
32mm

Max. RPM.

C Axis
Least Command Unit
0.001°

Positioning Accuracy
0.02°

Tavel&Feed

Slant Bed Degree
75°
X1/Z1 Axis Travel
150mm / 380mm
Y1 Axis Travel
80mm = ±40mm

X2/Y2/Z2 Axis Travel

Axes
Ball screw
Ø32 x P10
Linear Guide Way
35mm
Y2 Axis Linear Guide Way
25mm
Rapid Feed
30m/min

Repetition Accuracy
0.005mm

ATC

System

System 1
BMT-55 Power Turret
No of Tools
12

Tool Holder
□25mm /  ○ 25mm / ○ 32mm

System 2
Gantry

No of Tools
OD*5 / ID*9 / LiveTool*12
B Axis (option accessory)
360°

Tool Holder

Motor

Main Spindle
Servo Spindle 11kw
Sub Spindle
Servo Spindle 3.7kw (5.5kw)
X1/Y1/Z1 Axis
AC Servo 2.2 / 1.5 / 1.5kw
X2/Y2/Z2 Axis
AC Servo 1.5 / 1.5 / 1.5kw

Hydraulic

System

Pump Spec/Capacity
1HP / 40L
Hydraulic Pressure/ Flow
30 kg/cm² / 12L/min
Lubrication
Pump Spce/Capacity
25W / 2L
Max. Pressure
15 kg/cm²

Coolant

System

Pump Spec
TPH4T5K, 5Bar, 75 L/min

High Pressure Pump Spec
SF-30C, 25Bar, 30L/min

Coolant Tank Capacity
240L

Machine

Size

Length without/with Chip Coveyor
2795mm/4118mm
Machine Width/Height
2051mm/2180mm
Machine Weight
6100 kg
( ) Option
Products Download